Luggage Storage Docklands
Travel easier
with luggage storage Docklands that comes to you



Staying in Docklands?
Luggage while travelling is a hassle
Our job is to make
your day easier

We collect, store & deliver your bags, making you hands-free to Do Whatcha Wanna Do!
"I cannot recommend this service enough. You can pay to lug your suitcases around to one of the other luggage storage places OR you can pay (a very reasonable price) to have your luggage conveniently picked up and returned to you when you need it, on your terms. Chris could not have been more helpful and, like I said, I cannot recommend this service enough. The hundreds of 5 star google reviews do not lie. Thanks so much for making our travels so much easier."
Amazing Service! What a great concept, and SO WELL executed. Was a little dubious about how well this would work and I hate messing around waiting for people etc. The guys were very flexible, communicative, friendly and professional. We couldn't fault the service, or the way it was provided 10 out of 10 guys Wonderful!
A great service. Pick up of bags at the hotel and then drop off at the airport terminals was super convenient and hassle free. A stress free way to get bags to the airport and spend the day around Melbourne!
Luggage Storage in Docklands
Numbers increasing daily - correct 1/2/2023
No need to join or download an app
Sometimes all you need is a locker, if that is the case, try Southern Cross Train Station lockers. If they are full or broken, give us a try.
food, sport & shopping
are easier without your bags
We are like a locker on wheels.
Lockers can't be booked, are sometimes all taken, often broken, don't offer you insurance and worst of all, you have to find them, and then drag your bags to them.
BagBoyz® offers you a service that overcomes all of this.
Simply book your collection time and we will come to you.
Best of all, you don't need to go back to the locker and get your bags.
Our storage is located between the city and the airport.
We provide a mobile service that comes to you and then delivers your bags back to you, wherever & whenever you need them.
We want you to have a completely stress-free day.
A day where your plans are not restricted to carrying bags, retrieving bags or what you end up doing with your time.
We are travellers too and we promise, you will have more fun with your time, including the extra time gained by not getting to the locker, if BagBoyz® are storing your bags.
The cheapest option is carrying your bags around with you.
Second to that, is buying a bike lock and tying them to a pole.
We look at value as a combination of dollars and ease.
This is your holiday, no doubt well deserved.
So if you are looking for the easiest solution that will allow you to do more with your day and cause the least amount of stress, BagBoyz® is for you.
It's a holiday. Give yourself what you deserve.
| | | | | |
| --- | --- | --- | --- | --- |
| | | | | Everywhere - We come to you! |
| | | | | |
| | | | | |
| | | | | Southern Cross Station - can fill up fast |
| | | | | Flinders Street Station - need to use a Myki to access |
| | | | | Varies - could be upstairs or far away, you don't know until after you book |
| Be My Guest BNB Concierge | | | | |
At BagBoyz®, we know you are the kind of traveller who wants to make the most of the day.
In order to do that, you need the freedom of your hands.
The problem is your luggage, which makes you feel restricted.
We believe holidays should be easy, relaxing & fun.
When we travel, we like to find the easiest way, that's why we come to you, so you have the easiest option for your bags.
So if you need to store your bags in Docklands, you're at the right place.
Here's how it works: Click. Book. Enjoy.
So Book Now. Stop the frustration, start doing more and enjoy the day. As holidays are meant to be.
Docklands Luggage Storage
Early Checkout
Don't just wait around. Make the most of your last day. Get coffee, go to the NGV, take your time.
Late Check-In
You're probably tired. Make the most of your first day. Eat food, go shopping, get off the footpath.
Interstate Trips
Avoid Checked luggage fees, they add up fast. Just take your wallet, backpack & camera.
Switching Hotels
Times don't match for checkout and check-in.
Take the kids to the aquarium.
Switching Hotels
Times don't match for checkout and check-in. Take the kids to the aquarium.
Road Trips
You won't need your big bags. Get a convertible, grab your wallet & take your camera.
Finding a locker
Other Luggage Storage involves getting there first & you have to return to collect it.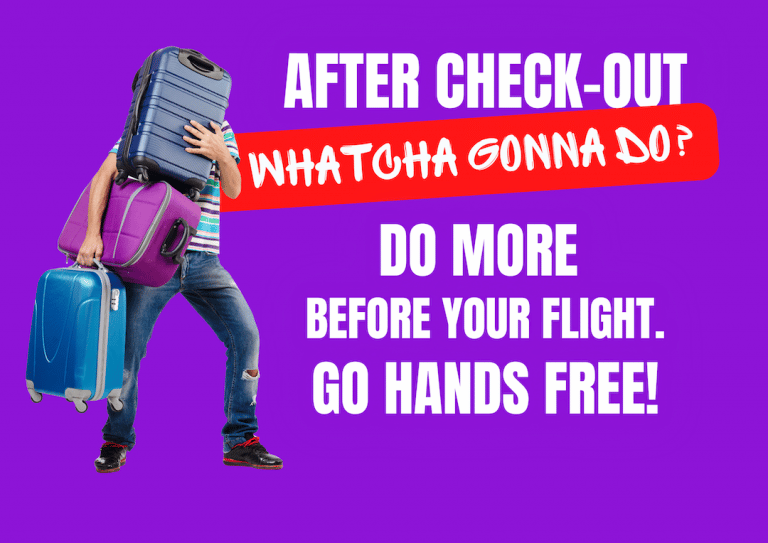 the easiest solution to luggage in Docklands
Where Can I Store My Bags in Docklands?
Luggage Storage Services in Docklands
Luggage Storage Solution for staying in Docklands
Luggage Storage Docklands
Do you need convenient Luggage Storage in Docklands, Melbourne?
Are you planning a visit to the vibrant Docklands area in Melbourne, Australia?
Exploring this bustling waterfront precinct with its stunning skyline, numerous attractions and lively atmosphere can be an amazing experience.
However, dragging your heavy luggage around can quickly become a burden and take away from your enjoyment.
That's where we come to the rescue with our convenient luggage storage options in Docklands
At BagBoyz®, we understand the importance of hassle-free travel and the need for secure storage solutions.
Whether you're a tourist, business traveler or local looking for temporary storage, we are the easiest solution.
Here's why our luggage storage service in Docklands is the perfect choice.
Searching for Luggage Storage in Docklands is no more.
We offer a luggage storage service that comes to you, stores your bags for as little or as long as you need. 
We then return them back to you, wherever you are & whenever you need, which means you have found the easiest solution to the bag drag while travelling.
A more practical solution to storage lockers at Southern Cross Station.
More certainty compared to a luggage storage app that will send you to some random location, where you are dictated by variable operating hours.
Best of all, you don't need to drag your bag to that location or return back there before you head to your next destination, therefore you are truly Hands Free.
Our storage facilities are everywhere in Docklands as we come to you making us an incredibly convenient service for you.
You won't have to venture far from where you are as we collect or deliver your bags outside of the accommodation.
We want to give you peace of mind.
Suitcase storage with us is in our secure facility or riding shotgun in our vans.
Your luggage is not stored out the back of some shop or an unmonitored locker.
You can trust that your belongings will be safe with us.
We offer flexible storage options to cater to your needs. Whether you need to store your luggage for a few hours, a day, or longer, we can do that.
We collect, store & deliver your luggage – Anytime. Anywhere.
So we work around your schedule.
BagBoyz® are Melbourne born and bred.
During your store, if you need some advice for how to get somewhere, how to use the Myki or where you should venture for a bite, feel free to call us, we are only happy to help.
We may not have all the answers, but we are a good place to start.
"Where can you store your bags in Docklands before you check in to your Airbnb or short-term rental"?
We are 5 star. We work hard to get our ratings and we want to keep it that way. Travellers love us, because we make their day easier for them.
We are the luggage storage experts.
Firstly, we are reliable, local and direct.
That is to say, we are safe, versatile and the easiest solution to luggage when travelling.
Stop looking on Google. Play the day away and get your guests being Hands Free.
Secondly, your guests will love it and if they have kids with them, they will love it more. Therefore, they will enjoy the day more.
Thirdly, forget the packed trams and footpaths, having guests try and manoeuvre their way through. Melbourne was made to be enjoyed. Enjoy her.
So if you are looking for luggage storage as an offering for your property we are the perfect solution.
BagBoyz® storage for travellers in Melbourne are open 24/7 including public holidays.
LUggage Storage Marvel Stadium
Looking to squeeze in a game at Marvel Stadium before you leave town?
Are you finding that your luggage is preventing you from enjoying the day?
BagBoyz® services all of Docklands so you don't need to ask yourself " Where can I store my bags in Docklands?"
Maybe you have just arrived in Melbourne and need a place to store your bags near Docklands before you check into your hotel, Airbnb or shortterm accommodation
Become the real Marvel Superhero annd free yourself up from the frustration of your luggage and let BagBoyz® Luggage Storage Docklands allow you to Do Whatcha Wanna Do!
If you are looking to use your spare time to have a skate at Icehouse or for shopping at The District before you head to the airport or check-in to your accommodation, BagBoyz® Docklands Luggage Storage are the perfect solution for getting rid of your bags.
No need to look for a locker storage near me, as we come to you.
BagBoyz® Luggage Storage has the largest network for luggage storage in Melbourne because our locations are infinite.
We come to you, meaning you do not have to drag your bag somewhere to store them or search the web for bag lockers.
BagBoyz® are the number 1 luggage storage service in Melbourne and we are always open.
Booking your luggage storage in Docklands with us is quick and easy.
Simply click here to reserve your storage space in advance.
We will meet you at the times you have selected.
So, why struggle with heavy bags when you can explore Docklands freely?
Take advantage of our reliable and convenient luggage storage services and make the most of your time in Melbourne's vibrant waterfront precinct.
Book your storage space today and enjoy a stress-free travel experience like never before.
Enjoy the food & shopping hands free. We'll pick up your bags and return them back to you when you're done, Airport, Southern Cross, Hotel – Anywhere & Anytime.
Adjacent to the CBD, Docklands is where Melbourne embraces the waterfront.
Starting at Spencer Street and stretching west, Docklands is a mixture of residential, commercial and open spaces.
Docklands is served well with public transport, offering numerous tram routes, buses and Southern Cross Station.
The station is located next to Marvel Stadium and has walkways across the roads, link Docklands and the station.
Footy (AFL) is the major use for this indoor/outdoor stadium; however its use is limited only by the imagination.
Hosting cricket, WWE, UFC, basketball, rugby, soccer, conventions and concerts, make sure you check out what is on the next time you are in town.
An easy way to get to the stadium is by public transport, or if you are staying in Docklands, it is an easy walk.
The easiest way though, is hands free. So make sure you get BagBoyz® Luggage Storage Docklands to look after your bags.
We'll pick them up, store them securely and drop them back to you, when and where you need them. This means you are hands free from the moment we meet you until the moment we see you again.
The District is the new upgrade of what used to be known as Harbourtown.
Promising Shopping, Food & Fun, The District is home to O'Brien Icehouse, Costco & many retailers, as well as The Pancake Parlour, Carl's Jnr and many more.
So if you want to shop to you drop, entertain yourself or grab a quick bite to eat, make sure you do yourself a favour and get BagBoyz® Luggage Storage Docklands to look after your bags. Even the new ones you accumulate on your day out.
We'll pick them up, store them securely and drop them back to you, when and where you need them, which means you can do more, when BagBoyz® The Luggage Storage Experts, look after your bags
A great day out for the international traveller.
Check out of the hotel in the morning, have us look after your additional larger bags, spend the day shopping and eating at The District Docklands shops and then head to Southern Cross Station to catch the SkyBus to the airport.
We can even help if you need the additional luggage storage. Sydney Airport here you come. When you you are back in Melbourne ready to catch your flight home, we can meet you wherever and whenever you need and drop back your luggage to you
Operating most Sundays, the market offers an array of boutique stalls.
You'll never know what you'll find, but we know it is easier hands free.
Whatever your flavour, Docklands offers taste bud tempters for all.
From quick bites to sit-down restaurants, whatever you fancy, remember it's easier to eat when you're hands-free.
We can look after your bags, so grab your camera, drink bottle, hat and wallet and get down to Docklands, for fun, food and shopping.
Docklands is serviced by the Free Tram Zone, Southern Cross Station and the Tourist Tram.
Book here and let BagBoyz® Docklands Luggage Storage look after your bags. We'll hold them for as little or as long as you need and drop them right back to you.
The easiest solution to store your bags in docklands