Travel easier in Richmond
with Luggage Storage that Comes to You!



Staying in Richmond?
Luggage while travelling is a hassle
Our job is to make
staying in Richmond easier

We collect, store & deliver your bags, making you hands-free to Do Whatcha Wanna Do!
"I cannot recommend this service enough. You can pay to lug your suitcases around to one of the other luggage storage places OR you can pay (a very reasonable price) to have your luggage conveniently picked up and returned to you when you need it, on your terms. Chris could not have been more helpful and, like I said, I cannot recommend this service enough. The hundreds of 5 star google reviews do not lie. Thanks so much for making our travels so much easier."
Amazing Service! What a great concept, and SO WELL executed. Was a little dubious about how well this would work and I hate messing around waiting for people etc. The guys were very flexible, communicative, friendly and professional. We couldn't fault the service, or the way it was provided 10 out of 10 guys Wonderful!
A great service. Pick up of bags at the hotel and then drop off at the airport terminals was super convenient and hassle free. A stress free way to get bags to the airport and spend the day around Melbourne!
Luggage Storage in Richmond
We carry bags, so you don't have to
Numbers increasing daily - correct 1/2/2023
No need to join or download an app
less bags & more Ball
get to the G Hands-free
We are like a locker on wheels.
Lockers can't be booked, are sometimes all taken, often broken, don't offer you insurance and worst of all, you have to find them, and then drag your bags to them.
BagBoyz® offers you a service that overcomes all of this.
Simply book your collection time and we will come to you.
Best of all, you don't need to go back to the locker and get your bags.
Our storage is located between the city and the airport.
We provide a mobile service that comes to you and then delivers your bags back to you, wherever & whenever you need them.
We want you to have a completely stress-free day.
A day where your plans are not restricted to carrying bags, retrieving bags or what you end up doing with your time.
We are travellers too and we promise, you will have more fun with your time, including the extra time gained by not getting to the locker, if BagBoyz® are storing your bags.
The cheapest option is carrying your bags around with you.
Second to that, is buying a bike lock and tying them to a pole.
We look at value as a combination of dollars and ease.
This is your holiday, no doubt well deserved.
So if you are looking for the easiest solution that will allow you to do more with your day and cause the least amount of stress, BagBoyz® is for you.
It's a holiday. Give yourself what you deserve.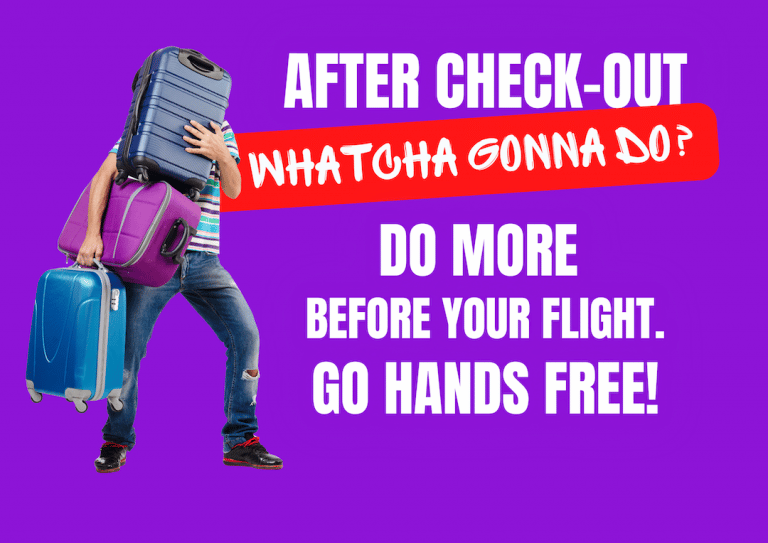 the easiest solution to luggage in Richmond
| | | | | |
| --- | --- | --- | --- | --- |
| | | | | Everywhere - We come to you! |
| | | | | |
| | | | | |
| | | | | Southern Cross Station - can fill up fast |
| | | | | Flinders Street Station - need to use a Myki to access |
| | | | | Varies - could be upstairs or far away, you don't know until after you book |
| Be My Guest BNB Concierge | | | | |
Sometimes all you need is a locker, if that is the case, try Southern Cross Train Station lockers. If they are full or broken, give us a try.
At BagBoyz®, we know you are the kind of traveller who wants to make the most of the day.
In order to do that, you need the freedom of your hands.
The problem is your luggage, which makes you feel restricted.
We believe holidays should be easy, relaxing & fun.
When we travel, we like to find the easiest way, that's why we come to you, so you have the easiest option for your bags.
So if you need to store your bags in Richmond, you're at the right place – BagBoyz® Luggage Storage Richmond.
Here's how it works: Click. Book. Enjoy.
So Book Now. Stop the frustration, start doing more and enjoy the day. As holidays are meant to be.
Early Checkout
Don't just wait around. Make the most of your last day. Get coffee, go to the NGV, take your time.
Late Check-In
You're probably tired. Make the most of your first day. Eat food, go shopping, get off the footpath.
Interstate Trips
Avoid Checked luggage fees, they add up fast. Just take your wallet, backpack & camera.
Switching Hotels
Times don't match for checkout and check-in.
Take the kids to the aquarium.
Switching Hotels
Times don't match for checkout and check-in. Take the kids to the aquarium.
Road Trips
You won't need your big bags. Get a convertible, grab your wallet & take your camera.
Finding a locker
Other Luggage Storage involves getting there first & you have to return to collect it.
Where Can I Store My Luggage in Richmond?
Luggage Storage Services in Richmond
Luggage Storage Solution for staying in Richmond
When it comes to finding the best luggage storage option in Richmond, BagBoyz® are your go-to.
With their exceptional customer service and the convenience of coming to you, BagBoyz® ensures a hassle-free and enjoyable experience while you explore the vibrant suburb and beyond.
Known for its trendy cafes, bustling shopping streets, and proximity to sporting venues, Richmond offers a wealth of attractions for locals and tourists alike.
Are you planning a visit to the MCG, Rod Laver Arena or AAMI Park?
Attending sport in this mecca should be on anyone's bucket list.
Cricket, Footy, Tennis, Soccer or Rugby. It's amazing.
However, dragging your heavy luggage around can quickly become a burden and take away from your enjoyment.
That's where we come to the rescue with our convenient luggage storage options in Richmond.
At BagBoyz®, we understand the importance of hassle-free travel and the need for secure storage solutions.
Whether you're a tourist, business traveller or local looking for temporary storage, we are the easiest solution.
Here's why our luggage storage service in Richmond is the perfect choice.
Searching for Luggage Storage in Richmond is no more.
We offer a luggage storage service that comes to you, stores your bags for as little or as long as you need. 
We then return them back to you, wherever you are & whenever you need them, which means you have found the easiest solution to the bag drag while travelling.
A more practical solution to storage lockers at Southern Cross Station.
More certainty compared to a luggage storage app that will send you to some random location, where you are dictated by variable operating hours.
Best of all, you don't need to drag your bag to that location or return back there before you head to your next destination, therefore you are truly Hands Free.
BagBoyz® Luggage Storage Richmond are known for their excellent customer service, providing a seamless and efficient luggage storage experience. 
Friendly staff that are dedicated to ensuring the safety and security of your belongings.
BagBoyz® Richmond Luggage Storage offers a user-friendly online booking system where you can easily book your storage at the ideal time you need.
Once booked, your times are locked in leaving you to focus on enjoying your time in Richmond and beyond.
Our storage facilities are everywhere in Richmond, as we come to you making us an incredibly convenient service for you.
You won't have to venture far from where you are as we collect or deliver your bags outside of the accommodation or on your way to see some sport.
Store your bags pre check-in or post CheckOut
Are you in Richmond?
Looking for MCG Luggage Storage? Or maybe Luggage Storage AAMI Park? How about somewhere to store your bags during the Australian Open?
We provide a solution for luggage storage in Richmond. We are fully secure and operate 24/7.
If you are a tired tiger why not have more fun bag free?
First of all, we'll pick up your bags, then store them securely and finally return them back to you when and where you need them.  Airports, Southern Cross Station, hotels, Airbnbs, Station Pier and more.
We want to give you peace of mind.
Luggage storage with us is in our secure facility or riding shotgun in our vans.
Your luggage is not stored out the back of some shop or an unmonitored locker.
You can trust that your belongings will be safe with us.
We offer flexible storage options to cater to your needs. Whether you need to store your luggage for a few hours, a day, or longer, we can do that.
We collect, store & deliver your luggage – Anytime. Anywhere.
So we work around your schedule.
BagBoyz® are Melbourne born and bred.
During your store, if you need some advice for how to get somewhere, how to use the Myki or where you should venture for a bite, feel free to call us, we are only happy to help.
We may not have all the answers, but we are a good place to start.
"Is there luggage storage for MCG"?
We are 5 star. We work hard to get our ratings and we want to keep it that way. Travellers love us, because we make their day easier for them.
We are the luggage storage experts.
Firstly, we are reliable, local and direct.
That is to say, we are safe, versatile and the easiest solution to luggage when travelling.
Stop looking on Google. Play the day away and get your guests being Hands Free.
Secondly, your guests will love it and if they have kids with them, they will love it more. Therefore, they will enjoy the day more.
Thirdly, forget the packed trams and footpaths, having guests try and manoeuvre their way through. Melbourne was made to be enjoyed. Enjoy her.
So if you are looking for luggage storage as an offering for your property we are the perfect solution.
Our service is simple
No need to search for a location, because we come to you
You don't need to check the open times, because we are open 24 hours a day
There is no need to return to that location to collect your bags, because we transfer your luggage back to you, wherever you are.
We are Storage Lockers in Melbourne on wheels
At just 3km  east from Melbourne's CBD, Richmond is the home of the Richmond Tigers.
Richmond is quite a large suburb and sprawls from the Yarra River in the South and heads towards Abbotsford in the north.
The suburb of Richmond has many shopping strips, each with a variety of stores; however it can broken down to three categories.
If you are looking for night life and live bands, Swan Street is the go to. Whether it be for a quiet drink, a cocktail or to submerge yourself into the sounds of an indie band, Swan Street will satisfy your needs.
Live music has been on the menu since the 1940s and the Corner Hotel has earned a reputation for being an A-class rock music venue. 
It's not all about music though, you can step inside, sit back and relax to a well-cooked meal or have a causal sip in the rooftop beer garden overlooking the city skyline.
It's all easier when you are free from your luggage.
If you have booked us for Luggage Storage. Richmond Station has a great venue across the road. 
With a few different names over its history – The Greyhound – The Depot and now The Precinct Hotel is a great spot to meet up with friends and have a drink before Sporting events.
Whether you are heading to AAMI Park or the MCG, The Precinct Hotel is a great spot for a drink or two or some food.
If you are in Richmond, have finished your stay, the Precinct is a welcoming pub, before you head out to the airport. 
It all becomes easier when we have your bags.
Located off Swan Street in Lennox Street, the London Tavern is a great venue before and after the game at the MCG.
It is also ideal to sit back and watch the game.
With great food, heaps of space and an undercover beer garden, this local gem is where the locals have been coming for over 100 years.
Perfectly positioned, the accommodation is great too.
Located in the middle of Richmond, Bridge Road is home to food and fashion.
With an array of clearance centres you are sure to find a bargain or two.
The best way to tackle Bridge Road, is hands free. You are going to need them for the shopping.
So if you have just arrived and are waiting for that afternoon check in or have finished your stay and don't want to waste the day before you head to the airport, become the savvy traveller. 
Have BagBoyz® look after your bags and enjoy the day Hands Free.
We are the prefect solution to Suitcase Storage in Richmond.
BagBoyz® are the luggage storage experts.
Located in the northern part of Richmond, Victoria Street is known as Little Saigon.
Here you'll find an array of choices when it comes to Asian food, particularly Vietnamese.
So if you are craving for Pho or just looking to wrap some lettuce leaves around your spring rolls, make sure after BagBoyz® the Richmond Luggage Storage experts have picked up your bags, you sample what is to offer in Victoria Street.
no need to search for luggage storage near me
Don't spend your time looking for somewhere to store on Gumtree. Melbourne we are the solution to the hassle of luggage when travelling.
Enjoy the benefits of an Airbnb or short term accomodation and make the most of the time before or after the time you occupy the property.
Go out for a coffee, take a selfie or three, explore Melbourne's rooftop bars, pop into an art gallery.
You name it. It all becomes easier when we are looking after your bags, because when we have your bags, you are hands free to do as you wish.
Don't just take our word for it.
Check out our reviews. We are 5 star.
Firstly, we are reliable, secure, local and direct.
Stop looking on Google. Play the day away by being hands free.
Secondly, you will love it and if you have kids with you they will love it more.
Thirdly, forget the packed trams and footpaths, trying to manoeuvre your way through. Melbourne was made to be enjoyed. Enjoy her.
So if you are looking for luggage storage. In Airbnb there generally isn't any, but now you have the solution.
Richmond's prime location and excellent transport connections make it an ideal base for exploring Melbourne. Here's some key travel information:
Distance from Melbourne CBD: Richmond is around 3km southeast of Melbourne CBD.
Travel Time to Melbourne Airport: It takes around 30-40 minutes by car to reach Melbourne Airport from Richmond, depending on traffic conditions. Alternatively, public transport options like the SkyBus service offer direct routes from the CBD to the airport.
Travel Time to Southern Cross Station: Richmond Station is only a few train stops away from Southern Cross Station, which serves as a major transportation hub in Melbourne. The travel time from Richmond Station to Southern Cross Station is approximately 5-10 minutes, depending on train schedules.
Luggage Storage Richmond Station
Richmond is well serviced by public transport. If you have already has check out at your accomodation and are looking to make the most of the day, why not make it easier and engage BagBoyz® Luggage Storage Melbourne.
BagBoyz® are always open and are secure. This means you can rest assured and make the most of your day.
Luggage Storage West Richmond Station
Whether you are staying in East Melbourne or just north of Bridge Road, we are the West Richmond Station Luggage Storage Experts. 
You don't need to search for Luggage Storage near me. as we come to you, meaning we are the easiest solution to storing your bags.
Luggage Storage North Richmond Station
Looking for Luggage Storage Collingwood or if you need Luggage Storage in North Richmond, book our service and we'll come to you.
Booking your luggage storage with us is quick and easy. 
Simply click here to reserve your storage space in advance.
We will meet you at the times your have selected.
So, why struggle with heavy bags when you can explore Richmond freely?
Take advantage of our reliable and convenient luggage storage services and make the most of your time in Melbourne's sporting mecca.
Book your storage space today and enjoy a stress-free travel experience like never before.
As we said, our customers are the best
what our clients have to say